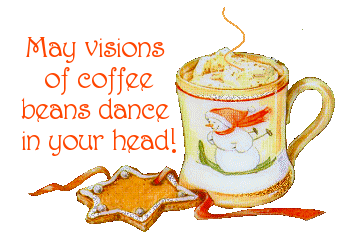 glitter-graphics.com
Thinking about what to do in the days before winter break? How about learning about December holidays and observances from near and far. I've assembled a few ideas here.
Advent
December 1-24, 2019
Advent
All about how to create a book advent calendar.
Christmas Bird Count Week
December 14, 2019 - January 5, 2020
Resources
Learn about how to participate in the Audubon Christmas Bird Count. Get materials and resources to conduct your count.
Computer Science Education Week
December 1-7, 2019
Educate
Learn how to get resources for computer science education.
Cookie Exchange Week
December 16-20, 2019
Cookie
A list of fun ideas from cookie parties to baking for charity.
Hanukkah
Evening of December 22, 2019 through Evening of December 30, 2019
Hanukkah
Dreidel
Learn about this holiday and create a dreidel craft.
Kwanzaa
Evening of December 26, 2019 - January 1, 2020
Crafts
Try activities such as making a drum, candle or wreath.
National Bible Week
November 24, 2019 - December 1, 2019
Bible
Ideas on what to do during National Bible Week, from sharing favorite scripture verses, to giving away a Bible.
Posadas
December 16-24
Posada
Crafts, skits and more activities to celebrate Posadas.
National Pastry Day
December 9
Pastry
Make or try a new type of pastry.
Kaleidoscope Day
December 11
Kaleidoscope
Try making a Kaleidoscope from simple materials.
Gingerbread House Day
December 12
Gingerbread
Ideas for candy free gingerbread houses... or not.
National Cocoa Day
December 12
Cocoa
Lots of cocoa recipes here such as peppermint, eggnog, and Mexican.
National Wreaths Across America Day
December 14, 2019 (Second Saturday in December)
Wreaths
Sponsor a veterans' wreath, volunteer or donate to a local group.
National Cupcake Day
December 15
Cupcakes
Cook up one or more of these cupcake batches.
Wright Brothers Day
December 17
Wrights
Read about the Wright brothers.
Watch a video about the Wrights.

Have some great holiday fun!